Vaccination is one of the most successful and effective methods to prevent infectious disease. Timely and rational vaccination can enhance human immunity and prevent disease.
International Medical Center (IMC-Beijing) provides immunizations for children over 4 years of age, teens and adults, including but not limited to:
- Flu shot
- Hepatitis B Vaccine
- Hepatitis A Vaccine (For high risk adults)
- Diptheria, tetanus & pertussis combination vaccinies, including Tdap and DtaP
- Tetanus(Td) vaccine
- Measles, Mumps & Rubella (MMR) combination vaccine
- Pneumococcal (PPSV23) vaccine
- Meningococcal vaccine (for children 11-18 years old)
- Haemophilus influenza (Hib) vaccine
- Polio vaccine (for children 4-17 years old)
- Varicella vaccine (for children up to 18 year old only)
- Tuberculosis
- Travel Vaccines
For detail information, please call 010-64651561/2/3
*Children between the ages of 4 and 18 must be accompanied by a parent or guardian, or have a signed consent form from their guardian.
Recommended Immunizations for Children from Birth through 18 years old: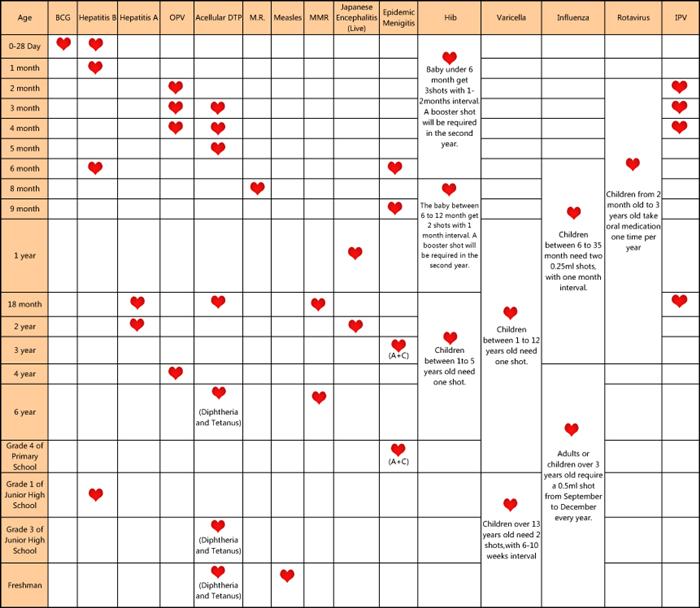 Flu Shot
Influenza (or Flu) is one of the acute respiratory infectious disease, which caused by influenza virus. It is more serious than common cold and more easily transmitted. Vaccination is the most effective way in preventing Influenza.
IMC-Beijing remind you that, fall and winter are flu season, please get vaccinated in advance.
IMC-Beijing can provide vaccination visiting service for group members (above 10 persons), please call Marketing Department at 010-84484585 for further information.